The PWS prediction scorecard for WWE Royal Rumble is now available. Results will be live tweeted (@PWScorecards) at the close of each match. Use #PWSResults and #PlayPWS to join the conversation.

If you are part of the PWS digital beta, the scorecard is now open for picks on the platform and will close at the start of the pre-show.

This scorecard is being brought to you by Lapel Yeah.
Download PDF
Download PNG
Bonus Entrant Prediction Card
If you would like to predict the entrant order of the Royal Rumble matches, than this bonus card is made for you.
Download Entrant PDF
Download Entrant PNG
Current Match Card
Non-Championship
Roman Reigns vs King Corbin – Falls Count Anywhere
Shorty G vs Sheamus

WWE United States Championship
Andrade vs Humberto Carrillo

Raw Women's Championship
Becky Lynch vs Asuka

SmackDown Women's Championship
Bayley vs Lacey Evans

Universal Championship
The Fiend vs Daniel Bryan

Men's Royal Rumble – 27 announced at posting

Women's Royal Rumble – 7 announced at posting
Updates
If the event card is updated and time permits, the scorecard will be updated. A list of updates or changes we will not address, will be posted here.
Rules
The following rules apply to this scorecard:

Aerial Moves
Near Falls
Timed Extras
+/- X with Bonus
Sponsors
Patreon Pro Tier: The West Family, David P, Bo E, Jori E, The Lovejoy Family,
Peter, Chris, Cruz S, Mark B, Ashley A, Jacob B, The Power Hand,
Frank, Josh, Elvert, The Party Game Cast, Robert D, Ryan T,
Tornado Tag Podcast

Patreon GM Tier: Breaking Down the Ring, Wrestle With Hope

Paid Advertisers: Lapel Yeah
Results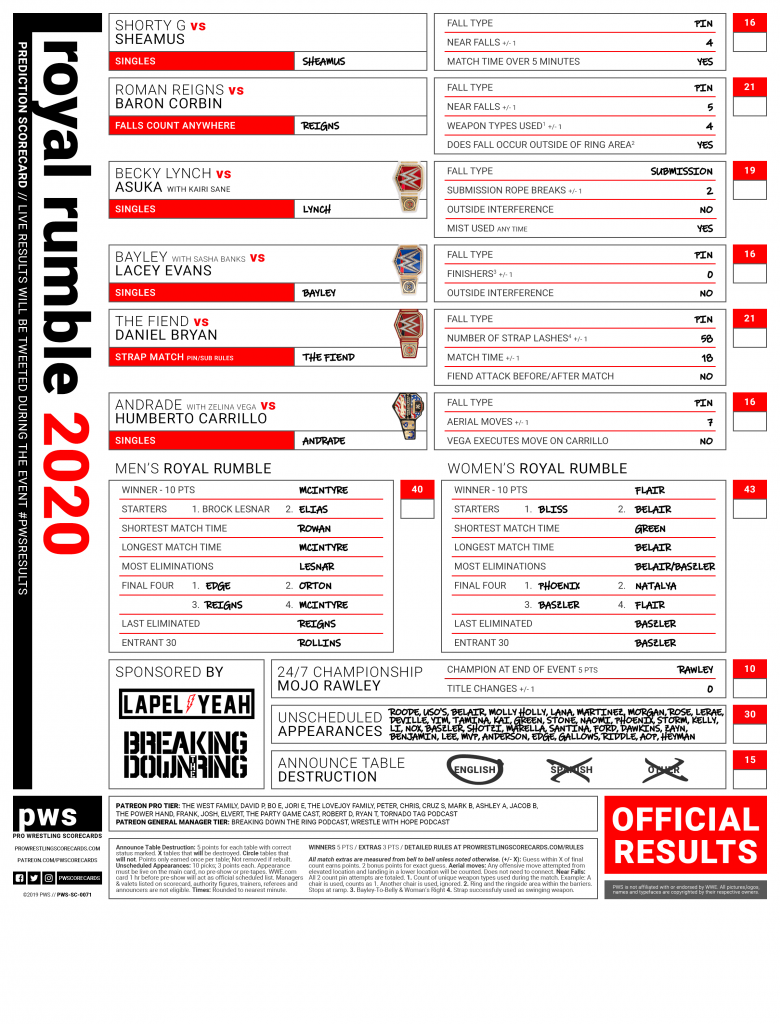 Results for entrant predictions will post soon.